Amongst the most populated islands in the Philippines, Cebu is considered to top the list. And why not? This place is filled with magnificent waterfalls, stunning beaches and serene views that will sweep you off your feet in no time. With a sweet essence of touristy vibes lingering around the city, this Cebu travel guide will act as your personal itinerary for an extraordinary experience.So, while you make up your mind about this much-awaited visit to Philippines, scroll down to know what you must not miss out on in Cebu!
Best Time To Visit Cebu
Image Source
An ideal time to explore the serene paradise of Cebu is during the winter months when there is less humidity and cool night that will set the perfect ambience for your vacation. To witness the vibrant festival of Sinulog in cebu, plan your trip in the month of January. Avoid going in the months of March to May as the weather is quite hot and humid at that time.
Cebu Travel Guide: Best Places To Visit
Travel like the locals with this extensive list of our best picks for you to explore on your next vacation. Make sure you cover all the places that really excite you and your loved ones on your trip.
1. Museo Sugbo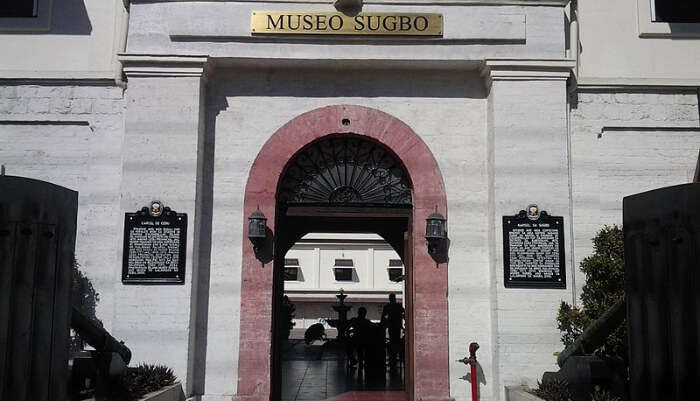 Image Source
Earlier a provincial jail from the years 1870 to 2004, this museum has gained popularity in recent years and has several galleries for you to check out. Various rooms inside are exclusively dedicated to the history of the charming city of Cebu and display memorabilia and a collection of letters from Thomas Sharpe. You can also find an american bomb that was dropped in Cebu, a purple heart and a beautiful bronze star belonging to a local Uldrico Cabahug.
Must Read: Manila In December: A Handy Guide To Soak In The Philippines Essence
2. Casa Gorordo Museum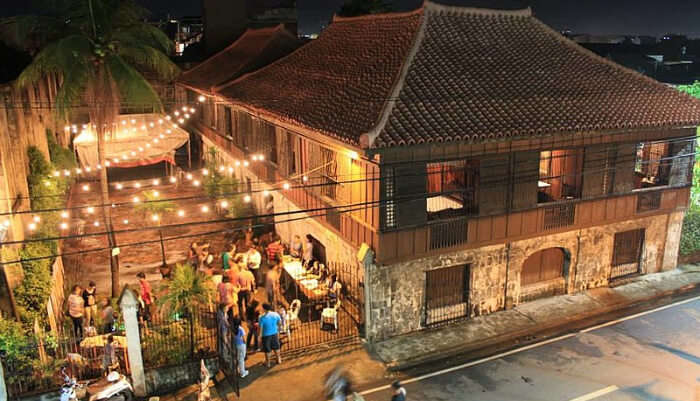 Image Source
Originally made a private home, this place is located in a quiet surrounding of the residential region in downtown. Comprising of Mactan coral stones in the lower part of the house, and pure Philippine woodwork in the upper region, this place has been renovated to put antique furniture, paintings and a cafe on display for all tourists. So, you can relax and grab a bite at the cafe while touring around this famous museum.
Suggested Read: The Perfect Davao City Travel Guide For A Planned Vacation In The Philippines
3. Basilica Minore del Santo Niño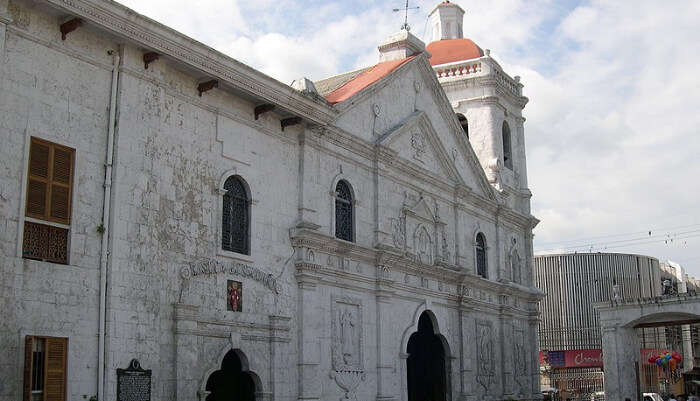 Image Source
Even after being destroyed several times by fire, in the earlier years around 1700s and later by an earthquake in 2013, it is said that the image of an infant jesus that can be seen in this church is nothing less than a miracle. Surviving all those fires, this church has been renovated and hosts masses on Fridays and Sundays every week. The same image is also the centerpiece at the famous Sinulog festival.
Suggested Read: 7 Mesmerizing Beaches Near Cebu That Will Make You Want To Stay In Philippines Forever
4. Kawasan Falls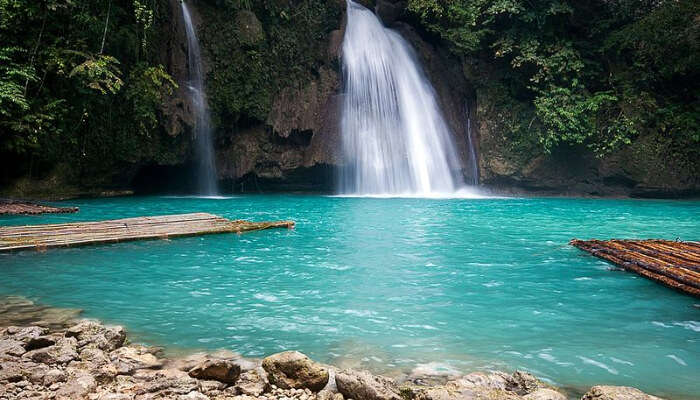 Image Source
A consecutive series of serene waterfalls are what is known as Kawasan Falls in Cebu. Out of the three, the largest one falls into a huge swimming hole and the view itself is quite stunning. Although this pool has been ruined a bit by the crowd and excessive developmental activities around the area, its natural beauty is still quite unique to the place.
Suggested Read: 23 Spectacular Philippines Islands That Have Been Carved By The Gods Themselves
5. Olango Island Wildlife Sanctuary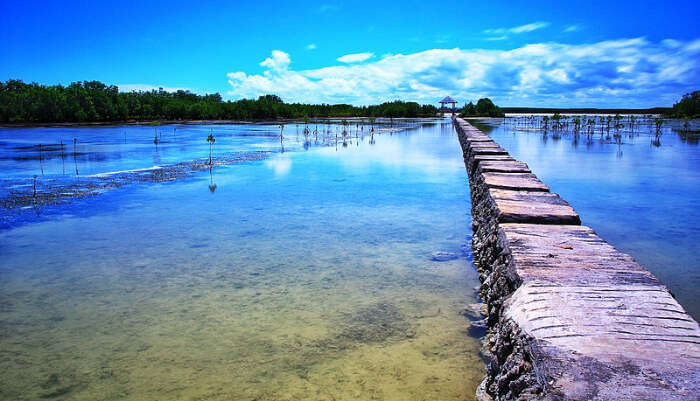 Image Source
Spread across an overall region of 1030 hectares covered with sand and mangroves, the charming wildlife sanctuary in Olango island is home to approximately 48 species of birds. An ideal time to witness the splendid beauty enhanced by the wildlife in the area is from the month of October to November and February to March depending upon the type of migratory birds you wish to see.
Suggested Read: Nightlife In Philippines: An After-Dark Abode For Party Lovers
6. Bounty Beach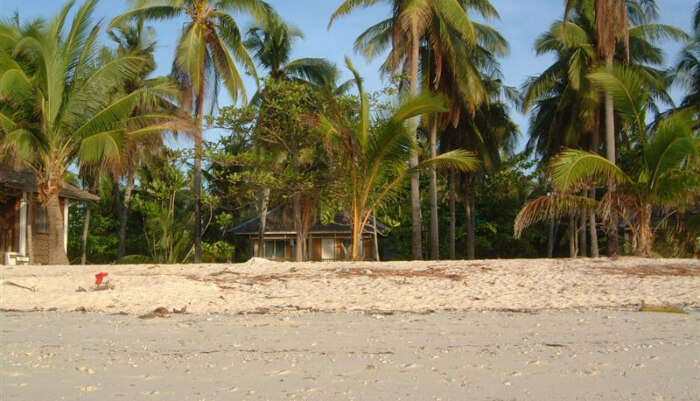 Image Source
A subtle shade of golden sand like the one found on Bounty beach is also found on the southern tip of the entire island. Dotted with quaint restaurants, cafes, dive shops, massage therapists, and hotels, you can try a couple of things at this beach while soaking in some sun. Don't forget to mind your way while swimming as several boats use the bay for access.
Suggested Read: 10 Temples In Philippines Where You Can Make Up For Past Wrongs
7. Logon Beach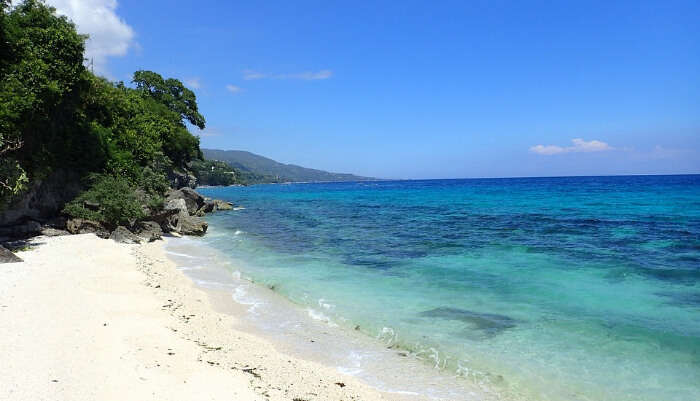 Image Source
Having a cool blue shade of the waves splashing across the shore seems inviting for a perfect swim during the day. However, due to mooring of several boats at this beach, it is not a swimming spot. You can spend some time sunbathing, take a stroll down the beach or simply enjoy the view with your friends and family at this site.
Suggested Read: Explore The 3 Island Groups Of The Philippines: Luzon, Visayas, And Mindanao
8. Fort San Pedro

Image Source
Changing its roles over the years as an army garrison, prison shelter and a famous city zoo, this fort is nothing less than a strong marvel of architecture that stands in all its glory even till date after being partially ruined. You can enter through the giant gateway to witness certain ramparts, followed by a small museum inside. Spend some time in the lush garden at this fort to watch the soothing sunset view.
Further Read: Boracay Island: A Detailed Guide To Explore Philippines' Little Paradise
With a soothing crisp breeze splashing across your face, there isn't a place that will make you feel less than a local itself. This city of Philippines is definitely the one you cannot afford to miss while planning for an adventurous experience. So, why wait? Plan a trip to Philippines for an ultimate holiday with your loved ones!
People Also read
Quezon City Travel Guide Manila Travel Guide Malta Travel Guide