Yala is one of the popular tourist destination in Sri Lanka – made famous by its Yala National Park, one of the most visited national park in Sri Lanka. The land that comprises a total area of 1268 sq km, Yala is home to beautiful light forest, lush plains and briny lagoons, everything that shows Yala is rich in wildlife. You are most likely to encounter elephants, crocodiles, buffaloes, aquatic birds, and monkeys during your trip into this wildlife. The western part is considered to be the area with the highest leopard visibility ever. With such a geographical diversity and abundance of wildlife, there are many wonderful places to visit in Sri Lanka.
Top 10 Places To Visit In Yala
Yala is often crowded, thanks to its appeal. Though it is highly recommended you should plan a trip carefully. Here are places in and around that you must not forget to visit on your trip to Yala.
Buduruwagala
Yala National Park
Okanda Devalaya
Kebiliththa
Sithulpawwa
Magul Maha Viharaya
Tsunami Memorial
Kataragama
Asokaramaya Buddhist Temple
Kalutara Bodhiya
1. Buduruwagala
Image Source
Considered as Yala's biggest attraction, the stunning rock-cut Buddha figures are nearly a 1000-year old. The enormous Buddha stands at 15m, becoming the highest on the island. You can still trace its unusual adhesive robe, along with an elongated splash of orange color it, indicating it was once painted with vibrant colors. The adjoining is filled by smaller carved statures. It is essential to hire a guide before stepping in to admire these huge ancient carvings and of course, giving him a tip.
Location: Buduruwagala Temple, Wellawaya, Sri Lanka
Must Read: 10 Places To Visit In Batticaloa For A True Sri Lankan Experience
2. Yala National Park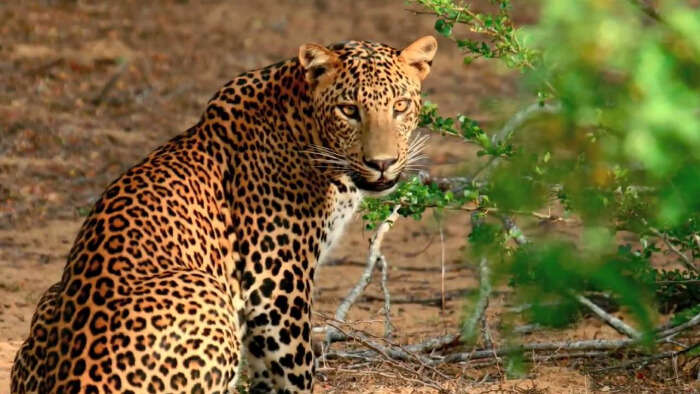 Image Source
What relaxes better other than nature and wildlife? The safari tours in Yala dedicate their team to the adventures that are complete eco-friendly. The Safari takes you the depth of explorations into the heart of Sri Lanka's Yala wildlife. The sight of watching these beautiful animals wandering into the profundity of nature is awe-inspiring and breathtaking. Not to forget, the birdlife is quite exquisite as well. The Safaris let you experience the rich wildlife including leopards, elephants, birds, and many more.
Location: Hambantota, Sri LankaTimings: 6 am – 6 pm
Suggested Read: Your Complete Guide To Yala National Park, Home Of The Sri Lankan Leopards
3. Okanda Devalaya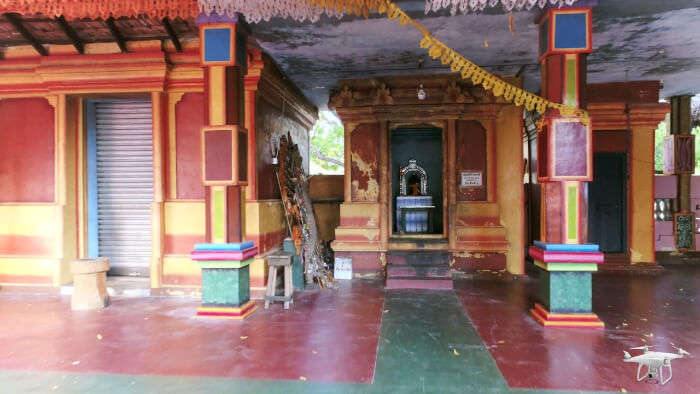 Image Source
One of the best places to visit in Yala, Sri Lanka, Okanda Devalaya is a small rural community situated on the eastern coast of Sri Lanka, Okanda Devalaya is considered to be an official entrance to the Kumana National Park. As the believers say, God Skanda was the first one to have sailed into Sri Lanka in a golden boat that turned into a rock, 'Ran Oru Gala'. Regarded as the destination of pilgrims, Okanda is the joining point where pilgrims rest for a while before visiting Kumana National Park and then Yala National Park.
Location: Yala, Yala National Park, Sri Lanka
Suggested Read: Here Are All The Amazing Things I Did On My Solo Trip To Sri Lanka
4. Kebiliththa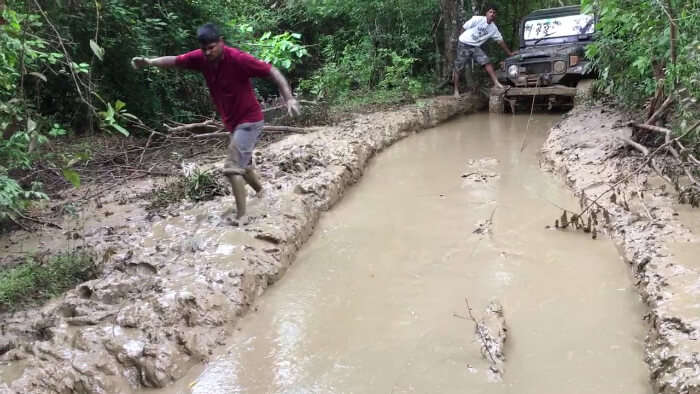 Image Source
Located in the 4th block of Yala National Park, Kebiliththa is one of the most religious and sacred places to visit in Yala. Ancients believe it to be so pious that you shouldn't consume meat or alcohol before stepping in. Kebiliththa is considered to be highly sacred amongst the Buddhists and the Hindus and attracts visitors from all across the world. It is considered to be the meditation spot of God Katharagama and Skanda Kumara, thus making people believe they reside there.
Location: Yala, Yala National Park, Sri Lanka
Suggested Read: 7 National Parks That Offer The Wildest Sri Lanka Safari
5. Sithulpawwa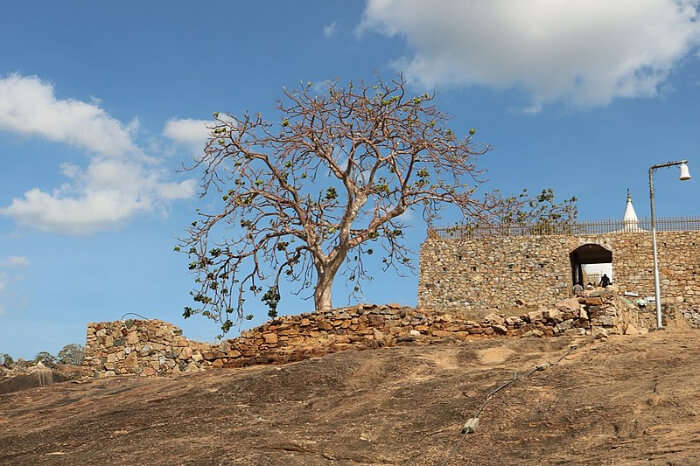 Image Source
Visit the ancient rock monasteries in Yala and seek the pious blessings in the place that is considered to be a sacred home to a total of 12,000 monks. This rock temple has its own historical connotation as it is considered to be one of the supreme 2nd century sites of Buddhist erudition. The peace here soothes your eye with its first glance. The noteworthy architecture of the temple is around 2,200 years old. For people visiting Yala, Sithulpawwa is a must visit destination.
Location: Situlpawwa, Sri Lanka
Suggested Read: 10 Places To Visit In Batticaloa For A True Sri Lankan Experience
6. Magul Maha Viharaya

Image Source
Situated to the south of Sithulpawwa, there lies Magul Maha Viharaya, who is said to be the site for the nuptial for King Kaban Tissa to Vihara Maha Devi. Magul is Singala here. The ancient Buddhist temple is situated within the Yala National Park and one can easily witness the ruins of the ancient temple. The beauty and architecture of this monument is simply breathtaking and is considered to be worth visiting place in Yala.
Suggested Read: 10 National Parks in Sri Lanka That Bring You Face-To-Face With The Incredible Nature
7. Tsunami Memorial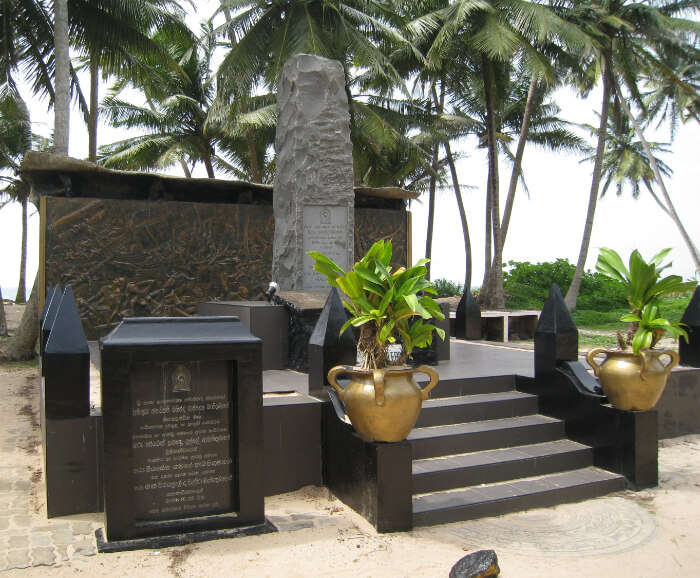 Image Source
Pay your warm respect at the Tsunami Memorial which is the location of the bungalows that were smeared out by the Asian Tsunami in 2004. This primary beach spot is open to public after a memorial was built in tribute of those who lost their lives in the tragic incident. Once visited, this place puts forward a silent moment of solitude and respect to the souls. Safari visitors can visit the memorial accompanied by a tour guide.
Location: Peraliya, Sri LankaTimings: 24 hours
8. Kataragama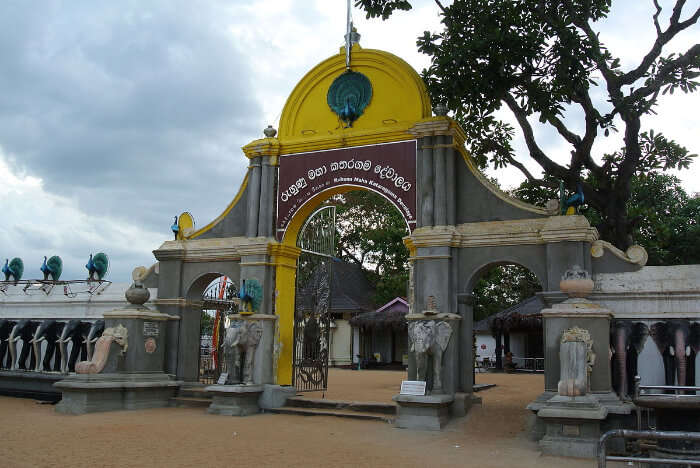 Image Source
The sacred city of Kataragama connected with the Yala National Park and is regarded as one of the best places to go in Yala. This holy town is a gripping blend of solemnity and convoy, piousness, and sacred lush. Kataragama is one of the most significant pilgrimages in Sri Lanka. A religious city is a holy place for Buddhists, Muslims, Hindus and the Vedas. Once there, you can easily breathe the magical incense in the air. The months of July and August celebrates a huge round of pilgrims paying tribute.
Suggested Read: Scuba Diving In Sri Lanka: 12 Places For An Adventurous Underwater Experience!
9. Asokaramaya Buddhist Temple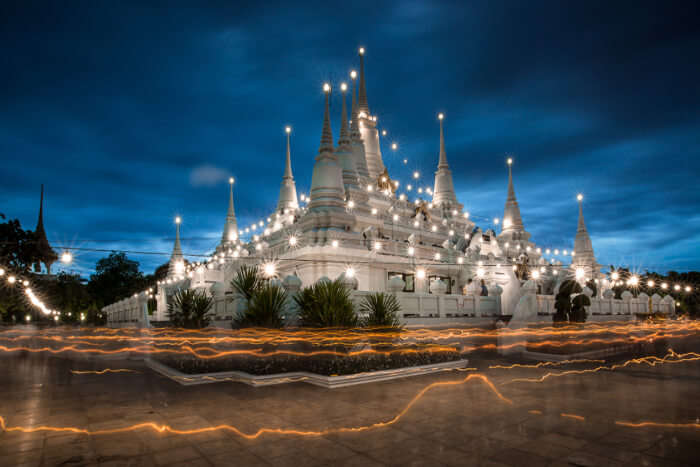 One of the best Yala tourist attractions, Asokaramaya Buddhist Temple is located in Kalutara. This ancient Buddhist temple was built in 1870s with the purpose of providing shelter to the disciples of Aluthgama Sangharatne who arrived to witness the Monk's sermons. The temple is just 3.5 km away from the park and is a must-visit place after wandering in Yala National Park. The peaceful tranquility of this sacred temple and its exquisite architecture makes it worth visiting as it is quite different from the other temples.
Location: Thimbirigasyaya Rd, Colombo 00500, Sri Lanka
Suggested Read: 12 Best Things To Do In Polonnaruwa To Explore The Ancient Side Of Sri Lanka
10. Kalutara Bodhiya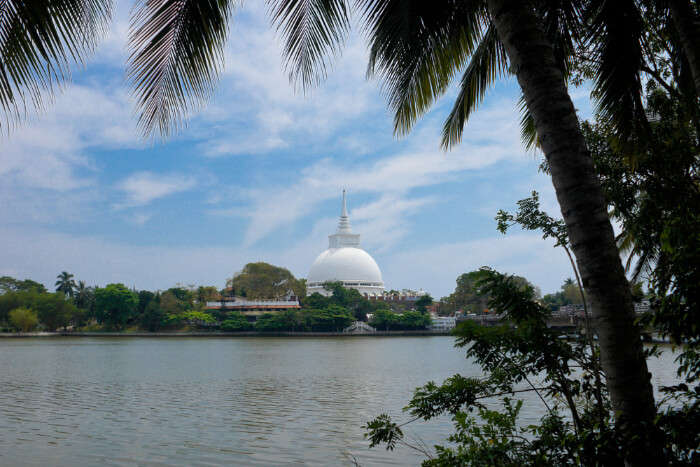 One of best places to visit in Yala, Kalutara Bodhiya is a little distance from the national park. It is one such religious place which is highly acclaimed by all the Buddhists in Sri Lanka. Once visited Yala, you must always pay a visit in Kalutara, the sacred shrine. You can purchase flowers outside and worship the shrine by offering them the same. There is a hollow dagoba that includes beautiful and interesting paintings that calms the artistic nature.
Location: Colombo – Galle Main Rd, Kalutara, Sri Lanka
Further Read: Sri Lanka In March: A Guide For Witnessing The Cultural Colors Of The Country Like Never Before
All in all, Yala is known to offer a serene and peaceful vacation to tourists from around the world. Explore the unknown and the wild while you're on your vacation to Sri Lanka.
Frequently Asked Questions About Places To Visit In Yala
What is the best time to visit Yala?
Since Yala is best known for its wildlife, the months between February to June are perfect to witness wildlife sightings. During this dry season, water levels are comparatively low and you can easily spot animals.
What is special about Yala National Park?
Yala National Park is famously known for being home to a wide range of wild animals. The park is especially a safe haven for Sri Lankan Leopards, Sri Lankan Elephants, and aquatic birds.
Is it safe to visit Yala during Covid times?
Yes, you can plan a visit to Yala during the current Covid situation. To ensure a safe trip, adhere to the Government protocols, maintain required social distance, keep wearing a mask when in public, and don;t forget to sanitize your hands at certain intervals.
Which are the top restaurants in Yala?
Some of the best restaurants in Yala to enjoy a hearty meal include:1. The Tunnel1. Thara Seafood Restaurant1. Living Room Homemade Cafe and Bakery1. De Mango1. Oce Eatery1. Krua Wahid
Which are the best accommodation options in Yala?
Here is a list of some of the top-rated accommodation options in Yala:1. Uga Chena Huts2. Leopard Trails Yala3. Jetwing Yala4. Wild Trails Yala5. Taru Villas
Which traditional Sri Lankan dishes one must try?
Some traditional Sri Lankan delicacies that one must try include Kukul mas curry, Fish ambul thiyal, Parippu, Kottu, Polos, Lamprais, Hoppers, and Wambatu moju.
What are the timings of Yala National Park?
Yala National Park opens from 6 a.m. to 6 p.m. Notably, the park is open throughout the week.
Which are the best religious places in Sri Lanka?
Some of the best religious spots in Sri Lanka include:1. Gangaramaya Temple2. Temple of the Sacred Tooth Relic3. Naguleswaram Temple4. Thirukonamalai Konesar Temple5. Shaktipeeth Shri Shankari Devi Temple6. Kataragama Temple7. Kelaniya Raja Maha Vihara Temple8. Cave Temple9. Muthiyangana Temple10. Maviddapuram Kandaswamy Temple11. Sri Ponnambalam Vanesar Kovil12. Munneswaram Temple
People Also Read:
Places To Visit In Singapore Places To Visit In Vietnam Places To Visit In Philippines
Looking To Book An International Holiday?
Book memorable holidays on TravelTriangle with 650+ verified travel agents for 65+ domestic and international destinations.